Shop VED Store
VED Information
Contact VED
Visner Engine Development, LLC
4700 36th Street
Kentwood, MI 49512
Phone: 616-726-6600
Fax: 616-726-6601
Contact Us
FOLLOW @VisnerEngine
for builds, info, and more





TAG US: #VisnerEngine
to get featured!
Lee Bektash wins ANDRA Pro Stock in Sydney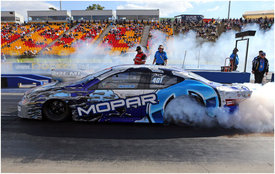 The Visner Engine Development team would like to congratulate Lee Bektash and his entire team on winning in ANDRA Pro Stock at the Nitro Champs at Sydney Dragway May 5th.  With his VED heads and his brand new RJ chassis, Lee not only captured the event win, he also qualified in the top position and clocked a career best 6.990 second pass.  Keep an eye out for Bektash as the season goes on.  He is looking to make a habit out of winning with VED and Mopar.
"This was as good as Pro Stock gets today. To top qualify, run our first six second pass and win the Nitro Champs makes this almost the perfect weekend." -Lee Bektash